An old pic of me dancing (in the rain)
The reason for oldmedancing is shared below
Thank you to everyone who made suggestions for my forthcoming book's #I'mNotAllowedToSayTheNameYet dance song. I decided to go with – well, I had to, really, didn't I? – the suggestion from ME Lewis at France Says:
Picture me boogying to this in my bedroom after hitting Send to my publisher.
You'll have to picture it, because there are no pictures of it;  I haven't boogied yet. Right after sending off my manuscript, I succumbed to a bacterial infection which saw me in bed for days, gulping down not one but two courses of those increasingly hard-to-get miracle pills, antibiotics. I'm on the mend now but it was touch and go for a while there whether I'd be able to eat all of my Maltesers. I'm happy to report that as of today I have none left.
When looking for a song, I came across this:
As much as I'd love to have used it, it's not dancey enough. I found another which is quite dancey but, sadly, not entirely appropriate for a family-friendly blog. But go look it up; Google #MENOPAUSE MONDAYS®A Singing Uterus Explains Perimenopause and Menopause. Hilarious in an I-can't-believe-what-I'm-seeing way.
The family and I – Hub, me, Spud, DisgustedwiththeTories Boy, and our newest member, Daddy's Boy
– were all dancing for joy this week, for an entirely different reason.
Debra at Breathe Lighter asked me a while back what Alex plans to do post-uni. I am now allowed to tell you that he got into not one, but two drama schools, and has accepted a funded place on a one year course at Oxford School of Drama.
When we heard the news, we all did this: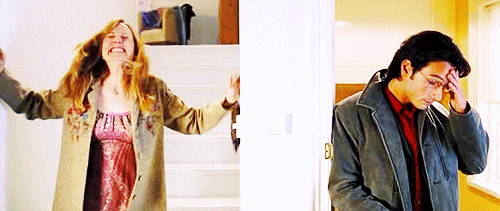 Just to be clear – we're all Laura Linney, not Karl on the right, who is every new graduate who has just realised the fun's over; real life starts and oh no! here come the bills.
Fortunately, that's not Alex. He won't start work at McDonald's for at least another twelve months.